Best Tillers For Breaking New Ground
Are you planning to start planting vegetables in your garden, or is it flowers? Do you love plantation? If yes, then we have compiled a list of 12 top selling tillers for you! Along with other tillers, the list also includes best tillers for breaking new ground. What could be a better hobby than planting your garden? It soothes your nerves, beautifies your lawn/yard/garden/farm, and is required for a healthy environment. It is better to tend to your plantation rather than hiring a gardener. It saves your money and improves your health because you involve in a process that engenders life.
Moreover, many people love having their own house-grown vegetables to cook. And, for planting, tiller and cultivator are the most important equipments. In addition to that, plantation is a very good recreational activity and you can engage your kids in this hobby to take their minds off the screens. Especially, in recent times, amidst the COVID-19 pandemic, when a lot of people are bound to remain at home, they can take up gardening as a new hobby.
So, no matter what your reason is, if you are into plantation, you'll need a tiller, and this article will definitely help you decide which one to buy!
1. Sun Joe TJ604E 16-Inch 13.5 AMP Electric Garden Tiller/Cultivator
First on the list is this 16 inch tiller by Sun Joe. It is one of the best tillers for breaking new ground. With its 13.5 Amp power, it allows around 16 inches wide and 8 inches deep cultivation. In addition to that, its wheels can be adjusted in three different positions so that you can use it according to your ease. Also, its six steel tines make it quite durable. Finally, it can be easily folded to take from one place to another.
2. TACKLIFE Advanced Tiller, 18-Inch Electric Tiller
Next on the list is another amazing electric tiller that allows 12.5 inches to 18 inches according to your varying requirements. This tiller by Tacklife is highly efficient with its 13.5 amp power and a speed of 380 rpm owing to its copper motor. It is very suitable for bed preparation, and soil loosening in garden, vegetable plot, or yard. It is best for average to large sized gardens. It is also one of the best tillers for breaking new ground.
3. Earthquake 31635 MC33 Mini Tiller Cultivator
This gas tiller is perfect for raised beds. With this all-rounder machine, you can prepare your soil for vegetation as well as flowering. In addition to that, it is quite easy to assemble. It works best when used in reverse direction. It also allows a variety of plants to be planted because of its small size and hence spacing.
4. Greenworks 10-Inch 8 Amp Corded Tiller
Another highly recommended electric tiller is this one by Greenworks. It features four 8-inch forward rotating tines for an amazing performance while digging the soil. In addition to that, it features customizable tilling width from 8.25 inches to 10 inches. Also, it allows adjustable tilling depth of 5 inches.
5. Earthwise TC70125 12.5-Amp 16-Inch Corded Electric Tiller/Cultivator
This electric tiller is one of the best tillers for small gardens and average-sized gardens. Its powerful electric motor delivers quick and efficient service. It is very durable and its run-time is quite amazing. It features 4 tines that can cultivate up to 16 inches width and 8 inches depth. In addition to that, it is easily maneuverable. Finally, its grip is very handy and offers a great tilling experience.
6. WEN TC0714 7-Amp 14.2-Inch Electric Tiller and Cultivator
Here is another cost-effective electric tiller that is bound to make your tilling and cultivating experience fun. It is easy to handle and maneuver. It features two removable wheels for convenient storage and portability. It allows 14.2 inches in width and 8.7 inches in depth tilling. Additionally, it features overload protection that turns off the motor when in contact with immovable objects like rocks. It also comes under the category of best tillers for small garden.
7. Mantis 7250-00-03 Electric Tiller
Next on the list is this silent electric tiller. It is also one of the best tillers for breaking new ground. It is lightweight, makes no noise, and tills the soil with great efficiency and precision. In addition to that, it allows three speed options. It allows up to 10 inches in depth and 9 inches in width of soil tilling. Furthermore, it is best for home gardens as its compact size allows you to prepare the soil in narrow areas.
8. Garden Trax Mini Tiller Cultivator Powerful 33cc 2-Cycle Engine
Here is another fuel powered tiller on the list that is quite popular with users looking for a small sized tiller for narrow sized soil preparation. Its 33cc powered engine is quite powerful and renders this tiller a long life and great productivity. In addition to that, its outer tines and shields can be easily removed without using tools.
9. BLACK+DECKER 20V MAX Tiller
If you are looking for a tiller for small to average-sized gardens, here is the one for you! This ultra powered cultivator is run on 20 volt lithium-ion battery. Its battery time is 5 times more than other tillers of similar category. In addition to that, its dual counter-oscillating tines prevent weeds from tangling and also make it easier for nutrients and water to reach down to the roots. It is also one of the best tillers for clay soil.
10. TAZZ 35351 33CC Viper Mini Cultivator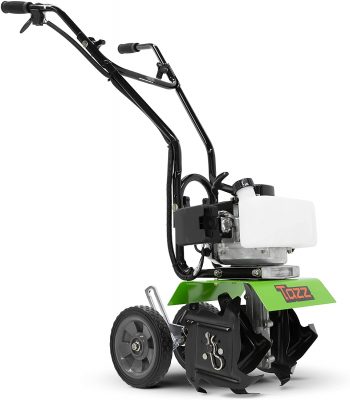 Another very popular gas tiller on this list is this mini cultivator by TAZZ. This mini cultivator is made to accommodate your varying soil turning requirements. It is easy to handle owing to its lightweight. Its 33 cc powered engine can cultivate your garden soil with great efficiency and less effort. In addition to that, you can remove the outer tines and turn it into a cultivator if you want to.
11. Black Boar ATV/UTV S-Tine Cultivator
This S-tine cultivator requires Black Boar's Motorized Lift (model 66000) or Manual Lift (model 66013) to function. It can easily be assembled by one person. It is simple in design and efficient in output. You can use it to refresh the soil and you will not be disappointed with the result. It makes cultivating a fun task. In addition to that, you can remove the tines if you want. It is the best walk behind tiller.
12. Garden Weasel Cultivator – Break Up Soil, Detachable Tines
This manual cultivator is the simplest one on this list. However, this does not make it any less in productivity. In fact, it is the most easy-to-use cultivator that can break up soil in no time. It is low maintenance and hassle-free. It is ultra light in weight and its tines are removable. You can easily prepare the soil by this garden weasel cultivator without worrying about charging or filling the fuel.
Buying Guide For Best Tillers For Breaking New Ground
What is a Tiller? In simple words, a tiller is intended to separate hard, minimized soil into free, separated soil that would then be able to be utilized for planting.
Types of Garden Tillers: There are three types of garden tillers: manual, electric (battery or gas powered), and ride behind tiller. Manual tillers are the simplest ones and they can be used without any hassle. Electric tillers are either gas powered or battery powered. These are heavy duty tillers and can be used for large areas. Ride-behind tillers are the ones that you drag behind a tractor. These are used for fairly huge areas.
What's the difference between a Cultivator and a Garden Tiller? Cultivators are used to mix up soil while tillers are used to break up soil. Cultivators are useful for refreshing the soil while tillers are used for preparing the soil for new plantation.
Power Source: While buying a tiller, it is important to know whether you require a gas-powered one, battery-powered one, or a manual one. Electric tillers can be used for longer periods of time and require less of your physical effort. Manual tillers require your physical strength and these are recommended for small garden areas.
Fixed and Adjustable Cutting Depths: Some tillers allow you to adjust the cutting depth while some come with fixed cutting-depths. If you are a pro, only then you should order the ones with adjustable cutting depths.
Dual-Rotating Tines: Tillers with dual-rotating tines allow forward as well as reverse motion of tines. When moved in reverse motion, the tines cut the soil in more depth.
Counter-Rotating Tines: Counter-rotating tines move in the opposite direction of the wheels. These allow cutting of the rough, hard, and rocky surfaces. Again, while buying a tiller, you need to consider the type of soil you want to prepare for plantation.
Other factors to consider when buying a Tiller: Other factors include size of the area/lawn, budget, and type of soil. Size of the lawn would determine whether you require heavy duty tiller or a manual one. Similarly, the type of the soil will help you choose the tillers of different types. Finally, and most importantly, your budget will determine which tiller you should buy.
So, we hope that this article would have made it easier for you to buy your tiller. All of the tillers that are mentioned above are top of the line products. However, if you ask for our recommendation, then BLACK+DECKER 20V MAX Tiller would be our choice. But, you need to keep in mind your requirements. Happy shopping!