Best Small Quiet Portable Generators
Last updated on March 29th, 2020 at 03:39 pm
Whether you are looking for something for recreational use, emergency or backup power at home or commercial usage, there are several brands and models of small quiet portable generators to consider. We have compiled a list of some of the best options in the market as well as the factors to consider to make the best choice possible.
Best Small Quiet Portable Generators to Buy
1. Westinghouse iGen4500 Super Quiet Portable Inverter Generator 3700 Rated & 4500 Peak Watts, Gas Powered, Electric Start, RV Ready, CARB Compliant

Westinghouse remains one of the most outstanding names among manufacturers of small quiet portable generators and the Westinghouse iGen4500 is one of the best options in that category of product. This unit offers convenience and optimal performance. It has a remote start as well as a push-button electronic start system. An LED display also makes monitoring major metrics quite convenient. this inverter generator is perfect for outdoor use, travel or simple home use. It is extremely quiet and designed to be highly fuel-efficient.
2. Honda EU2200i 2200-Watt 120-Volt Super Quiet Portable Inverter Generator

The 2200 Watt Honda EU2200i is an ideal portable generator for home use, work or play with a guarantee of optimum value for users. This lightweight generator delivers 10% more power than the earlier model. This portable inverter generator promises better performance and comes with a wide range of ease-of-use features. This includes a fuel shut-off valve( this makes it possible to run the engine without turning on fuel supply), a large oil drain gutter and spout, color-coded startup points, improved ventilation, and a light effort recoil system among others. The inverter supplies a stable power supply which makes it suitable for powering sensitive equipment.
3. WEN 56225i Super Quiet 2250-Watt Portable Inverter Generator with Fuel Shut-Off

WEN 56225i operates at a noise level of about 53db to deliver clean energy at extremely low noise levels. This powerful inverter generator is a low maintenance unit. It features a fuel-shutoff feature which helps to prevent blockage of the carburetor as a result of stagnant fuel. This helps to prolong the life-span of the inverter-generator unit. This unit also features an eco-mode switch. When this switch is engaged, the generator engine can automatically adjust fuel consumption based on the number of devices plugged into the generator.
4. WEN 56380i Super Quiet 3800-Watt Portable Inverter Generator with Fuel Shut-Off and Electric Start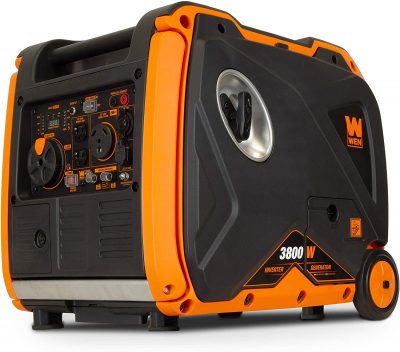 The WEN 56380i is arguably one of the best quiet generators for camping, home or work use. You will love the lightweight design of this unit and the fact that it features built-in wheels and a handle that can be folded easily. This makes the inverter generator quite portable. This 3800-watt inverter gen is highly fuel-efficient. Its 2.2-gallon tank can supply power for up to 8.5 hours running on half-load. You can further increase the unit's fuel efficiency by engaging Wen's unique eco-mode. It also features an auto-shutoff mode which optimizes the generator life-span with minimal maintenance required.
5. Generac GP3000i Super Quiet Inverter Generator - 3000 Starting Watts with PowerRush Technology

The PowerRUSH GP3000i allows you to do more with less, thanks to PowerRush patented technology which delivers 50% more starting capacity. This quiet inverter generator is portable and lightweight with a handle that makes it easy to carry. Sound emission is minimal even at optimal performance. This unit is quite simple to use. The inverter-gen's PowderDial is a combination of Start, run and stop functions in a single dial. The unit also features USB outlets for charging devices as well as a port for parallel connection of generators.
6. Pulsar 2,000W Portable Gas-Powered Quiet Inverter Generator with USB Outlet & Parallel Capability in Space Gray, CARB Compliant

The Pulsar PG2000iSN is perfect for on-the-go use thanks to a lightweight and compact suitcase design. This gas-powered unit is the ideal companion for camping, tailgating, and is suitable for home or work use as well. This inverter generator is highly fuel-efficient. It is capable of delivering up to 8 hours of power at half-load using just 1.18 gallons of fuel. This generator can be used to charge sensitive devices without fear of damage. For more power, you can connect two units in parallel.
7. A-iPower SUA2000iV Super Quiet 2000-Watt Portable Inverter Generator CARB/EPA, 2000 Watt, RV Ready

The A-power SUA2000i weights just about 46lbs. This means you can take it with you wherever you need it without stress. This unit is quite ideal for outdoor use for various applications including tailgating, camping trips, concerts, RVs and so on. Although a noise level of 58dB is louder than most portable units, this inverter generator is still quite silent in its operation. This unit is parallel ready. It not only pairs with other A-power SUA2000i units, but can also be connected to the Yamaha model or A-power SUA2000i for even more power.
8. Rainier R2200i Super Quiet Portable Power Station Outdoor Inverter Generator - 1800 Running & 2200 Peak - Gas Powered - CARB Compliant

This highly versatile but portable unit is built to help conserve energy while maintaining optimum fuel efficiency. This ultra-compact unit is lightweight and has an inbuilt handle which makes it easy to carry. It is gasoline-powered and has a run time of up to 13 hours on a 1.3-gallon fuel tank. The unit's control panel features a low oil alarm, output indicator, an overload alarm and a stop/reset button among other ease-of-use features.
9. Champion 3100-Watt RV Ready Portable Inverter Generator

The Champion 3100-Watt inverter generator promises convenience and ease of users for all users. This portable generator features a wireless remote start using the key fob which can power on or stop the generator from as much as 80 ft away. The unit's electric start switch is also quite convenient to use. To further ensure convenience, all the controls are available on the same quick touch control panel. The inverter also features a smart economy mode. In this mode the electrical load is reduced, the unit is quieter and engine life and fuel economy is increased.
10. Briggs & Stratton 30545 P3000 PowerSmart Series

Briggs & Stratton 30545 P3000 PowerSmart Series is one of the best quiet RV generators you can find around in terms of fuel and power efficiency. This unit is able to deliver clean and instant power while conserving fuel and energy. The unit features a simple telescoping handle for easy mobility. You will also love this inverter generator's intuitive LCD display which makes it easy to monitor all the vital metrics conveniently.
Buying Guide For Small Quiet Portable Generators
Portability: a portable generator is expected to be, well, portable. This is because it is will be mostly used for outdoor activities such as tailgating and camping which will require you to carry the unit around. Some of the features that improve portability that you should watch out for include lightweight, a handle, presence of wheels or rollers and so on.
Noise Level: another top feature of any portable generator is the noise level. Most portable generators are already designed to be quiet. Some units also feature eco modes that operate even more quietly. You can go for these types especially when silent operation is a major factor for you.
Power and Outlets: 2000-watt generators are the smallest size and offer the best price range of portable RV generators. Most of them would work for simple outdoor activities like tailgating or camping. You may need larger units with more power if you need to power more devices.
Similarly, you should consider the types of outlets that you need your unit to have. Usually, a small quiet portable generator will have some 120V AC outlets and some USB ports. Larger units, with up to 4000 watts power will give you a 240V outlet along with the standard 120V. some units also have outlets for connecting more than one generator in parallel for increased power.
Usage: Generally, the type of generator you go for will depend largely on what it will be used for. You may need a quiet RV generator for use in an RV, camping purposes, tailgating and so on. If you are a regular user then any reputable brand should work for you. However, if your need tends towards a more consistent or heavy-duty use, then you would do better with a unit built for commercial purposes.
FREQUENTLY ASKED QUESTIONS
What are the advantages of an inverter generator?
Some of the benefits of an inverter generator over regular units include:
Smaller sized and lighter
Quiet operation
Higher fuel efficiency
Parallel capability
Stable and cleaner power output
How many decibels(dB) is a quiet generator?
Yeah, although the term quiet is relative, a quiet RV generator is expected to operate at a noise level of between 50 to 65 dBA. Some inverter generators can even operate at a noise level lower than this. To put this in better perspective, a quiet generator is expected to be as quiet as a running air conditioner or refrigerator.
So what's the small quiet portable generator? We'll say that depends largely on your needs. Any of the generators on this list will make a very good choice. If price is not a problem for you then you should consider buying the Westinghouse iGen4500. However, if you are looking for a more low-end option then we recommend the Pulsar 2,000W Portable Gas-Powered as lower-priced alternative.